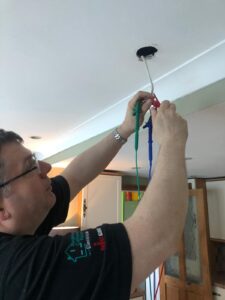 Message from Darren Briddock regarding Coronavirus (COVID-19).
Given the governments announcement on 23rd March 2020 that people should stay at home and only go outside for food, health reasons or essential work, I have reluctantly decided to move to an emergency only service.

In order to comply with the government's request that only essential work is undertaken outside of the workers own home, Electrical and Test are cancelling all scheduled appointments until the restrictions are over. When restrictions are lifted we will reschedule your works or inspection.

We remain open for emergency call outs and in such instances will undertake the minimum work needed on a customer's premises to restore the electricity supply or make the installation safe. So please don't sit in the dark with no power, we will come out to assist you and get something working.

If we do need to attend your home to rectify an emergency situation, we will discuss with you by telephone a method of work that maximises social distancing as much as we can.

This is a fast-moving situation and I will keep this page updated with any changes.

Stay safe everyone and stay home.
Darren Briddock
Director, Electrical and Test Ltd
Last update 24th March 2020