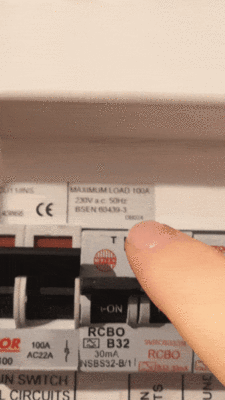 Regular testing of your Residual Current Devices (RCD's) is recommended every six months and as yesterday was the longest day of the year is the perfect time to remember to do it.
Test them again around New Year's Day and you have spaced your six-monthly tests perfectly apart, as the meerkat says simples!
RCD's are in your consumer unit to provide lifesaving protection in the event of something going wrong and you getting an electric shock.
But they only work reliably if they are tested regularly, like all of us right now they need some regular exercise to keep working.
Whilst your at it why not test your smoke alarms too!
An RCD is a sensitive safety device that switches off electricity automatically if there is an electrical fault, potentially saving your life, for example, if you cut through the cable when mowing the lawn and accidentally touched the exposed live wires or a faulty appliance overheats causing its metak case to become live.
When you press the test button the RCD should switch off immediately, if it doesn't then call Electrical and Test without delay.
Remember – Although RCD protection reduces the risk of death or injury from electric shock it does not reduce the need to be careful.
Have your wiring checked at least once every 10 years (five years if it's a rental property) to ensure the safety of you, your family and your home.
If you haven't had an Electrical Installation Condition Report done on your house in the last 10 years, it's now time to call Electrical and Test and book one in.
If you have a very old fuse board that does not have RCD protection, then you should also give Electrical and Test a call, it may be time for an upgrade.