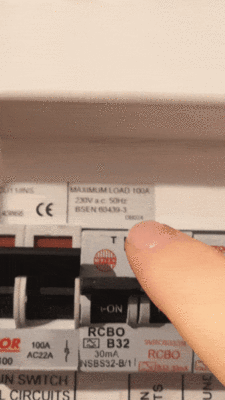 With new year coming up it's a very good time to go to your fuse board and press all the test buttons on your RCD's.
An RCD is a sensitive safety device that switches off electricity automatically if there is a fault potentially saving your life.
An RCD is designed to protect against the risks of electrocution and fire caused by earth faults. For example, if you cut through the cable when mowing the lawn and accidentally touched the exposed live wires or a faulty appliance overheats causing electric current to flow to earth.
Regular testing of your RCD's is recommended every six months and the new year is the perfect time to remember to do it. Then just remember to test them again around the time of the longest day of the year in June and you have spaced your six-monthly tests perfectly apart.
When you press the test button the RCD should switch off immediately, if it doesn't then call Electrical and Test without delay. A faulty RCD is not something I would allow in my house.
Remember – Although RCD protection reduces the risk of death or injury from electric shock it does not reduce the need to be careful. Have your wiring checked at least once every 10 years to ensure the safety of you, your family and your home. If you haven't had an Electrical Installation Condition Report done on your house in the last 10 years, it's now time to call Electrical and Test and book one in.
If you have a very old fuse board that does not have RCD protection, then you should also give Electrical and Test a call, it may be time for an upgrade.